'BOSS Bottled' | 1.7oz (50 mL) Eau de Toilette by BOSS
Model B Bottled EdT 50 ml Vapo 58000035
Assorted Pre-Pack
The base note is decidedly male, a vibrating harmony of sandalwood, cedarwood and vetiver.

In BOSS Bottled a fresh and fruity top note balances with the warm and flowery-spicy middle note dominated by geraniums, seasoned with just a dab of clove.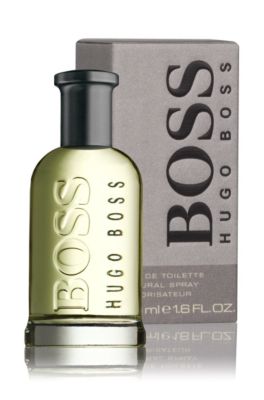 Rating

1

⊗

2

⊗

3

⊗

4

⊗

5

⊗

Clear All

X

Rating

Show All
1
2
3
4
5
Phenomenal shipping; wonderful fragrance.

The shipping was extremely fast (and free!). I got my package within 3-4 days from placing the order. I loved the packaging.. it was huge! I admit I was a little worried about ordering a fragrance online because I thought the bottle might be damaged in the shipping process, but there was no way this bottle was going to be broken--it was wrapped in layers and layers of bubble wrap in a box that was 10x the size of the bottle. It was quite hilarious, but I'm glad that it was that way.

Oh, yeah.. and the fragrance smells wonderful :) Couldn't be more pleased with my purchase.

Yes

,

I recommend this product.