'Benson' | Leather Belt by BOSS
Model BENSON 50127231
Black
Smooth cowhide
Rectangular polished metal buckle
Engraved logo
Pure zinc buckle
Width: 3cm / 1.25in

A classic, thin belt from BOSS in smooth leather with a slotted rectangular metal buckle of polished metal featuring an engraved logo. The smooth leather belt and squared end give a chic finish.

Material information: 100% Cow leather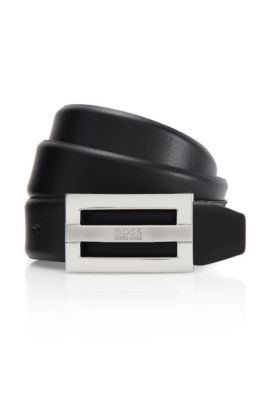 Rating

1

⊗

2

⊗

3

⊗

4

⊗

5

⊗

Clear All

X

Rating

Show All
1
2
3
4
5
After 2 trips to the tailor it was perfect

I purchased both this tuxedo and the Slim Fit Notched Lapel 'Aikin/Hollo' Tuxedo by HUGO BOSS online and at the same time. I prefer Hugo Boss' slim fit cut to its modern cut. Straight off the rack the Aikin/Hollo Tuxedo was the fit I was looking for but the Stars/Glamour tuxedo looks much more like a tuxedo should in its details. The buttons are wrapped in material covering the plastic and the pants have no belt loops. The pockets on the jacket are elegant. My only gripe would be the single central vent in the back of the jacket which is much more common with suits. Tuxedo jackets should not be vented. Otherwise the details and materials were perfect. I'm not a fan of the modern fit for my body type. I am 5'10.5" and 155 lbs and like true slim fit cuts for my suits and tuxedos. Pre-tailored, the suit jacket made me look frumpy and the pants hung too low in the crotch. Hugo Boss has free suit and tuxedo tailoring in store. I had a 100 mile drive just to get tailoring from where I was living at the time and thought it was best to have a tailor that was familiar with Hugo Boss products do the tailoring. I returned the Aikin/Hollo tuxedo at this time and tried to instructed the tailor to make the Stars/Glamour tuxedo fit more like the Aikin/Hollo tuxedo. She failed miserably but Hugo Boss was cool enough to allow me to take the tuxedo to my own tailor and pay for it. My tailor actually listened to what I was looking for. The end product was awesome and I love my custom fit Hugo Boss Black Stars/Glamour tuxedo.

Yes

,

I recommend this product.

Strays a little too far from the classic tuxedo

I purchased both this tuxedo and the Hugo Modern Fit Notch Lapel 'Stars/Glamour' Tuxedo at the same time. I loved the pre-talored fit of this tuxedo much better and in terms of its cut alone it was absolutely perfect. However I wanted a more classic and formal look to my tuxedo. What do I mean by this? Well the Lapel Aikin/Hollo Tuxedo looks more like a very nice suit than a tuxedo. I praise Hugo Boss for pushing the enveloped for a modern look but there were too many non-tuxedo details that ultimately led me to return this beautifully made black suit. To list a few, the jacket buttons are uncovered plastic and the pants have belt loops like a suit. These may seem like trivial details but it is these trivial details that differentiate a suit from a tuxedo. Too bad as the slim fit cut was amazing and the quality of the materials were superior.

No

,

I do not recommend this product.

Perfect weight for Fall/Spring Weather

I live in TX, but travel alot.  This jacket is very thin and is a nice way to dress up without having to put on a thick sport coat.  It is very hard to make it wrinkle which makes it great for packing, and the weight of it doesn't add any bulk I bought a size 40 which is somewhat tight through the mid section but fits perfect in the shoulders and arms.  I'm normally a 41/42 Short.  I would give this as a gift to anyone who needed a lightweight go-to jacket for travel or everyday use.

Yes

,

I recommend this product.

The suit has been constructed well and the material is of good quality. However, the pinstripes are hardly noticeable and the suit has much more of a charcoal shade to it as opposed to a dark blue like the description says. Good suit but if you are looking for a dark blue or navy suit you might be a little disappointed when you get the product. I ordered the suit thinking that it was dark blue but when I got the suit and placed in natural light it came off as having a dark grey tint to it. If you are looking for a dark grey suit I would highly recommend this product.

Yes

,

I recommend this product.